IMS Policy (QMS, EMS, and OH&S)
Beginning with SICL Mission and Vision of "People-centered" manufacturing, we haveto support the toils of the working people, respond to their voices, surpass their expectations and provide people-centered technologies and services.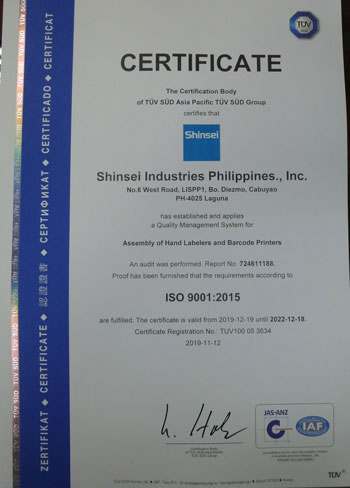 To realize this, a Quality Management System based on ISO9001:2015, an Environmental Management System based on ISO14001:2015 and an Occupation Health and Safety Management System based on ISO45001:2018 standard shall be established, implemented, and reviewed for continuing effectiveness and suitability.
To sustain this commitment, we shall
1) Establish, implement, maintain and review an Integrated Management System (QMS, EMS, OH&S) and continually improve to enhance customer's satisfaction, environmental performance and occupational health and safety performance;
2) Set, develop and periodically review our IMS policies, objectives and targets;
3) Strive to provide quality product at low cost and on-time delivery that meets customer requirements;
4) Ensure environmental protection by preventing pollution and conservation of resources;
5) Provide safe and healthy working conditions for the prevention of work-related injury, ill health and eliminate any potential hazard and reduce risks;
6) Ensure consultation and participation of workers in the creation of hazard identification, risks assessment and risks control, incident report and investigation etc;
7) Ensure all employees, suppliers, visitors and contractors are aware of their environmental, health and safety responsibilities;
8) Make this IMS policies available to the public upon request;
9) Comply with all applicable legal and other regulatory requirements;
10) Identify training needs and implement necessary training to enhance the competence of every employee;
11) Involve not only the Production Department but all departments such as Puchasing, General Affairs etc. in the creation of quality, safety and environment-friendly processes.
Quality Management System Certification History
| | | | | | | |
| --- | --- | --- | --- | --- | --- | --- |
| ISO Standard | | Date Issued | | Certificate Number | | Certification Body (CB) |
| ISO 9001:2015 | | Dec. 19, 2019 | | TUV100 05 3634 | | TUV-SUD Asia Pacific |
| ISO 9001:2015 | | Dec. 13, 2016 | | TUV100 05 3634 | | TUV-SUD Asia Pacific |
| ISO 9001:2008 | | Sept. 25, 2013 | | AJA13.0763 | | AJA Registrars Philippines |
| ISO 9001:2008 | | July 2, 2010 | | Q101258 | | Moody International Certification Ltd. |
| ISO 9001:2000 | | Feb. 27, 2007 | | 101258 | | Moody International Certification Ltd. |
| ISO 9001:2000 | | Apr. 30, 2005 | | 153258 | | Moody International Certification Ltd. |
| ISO 9001:2000 | | Dec. 19, 2003 | | 6378 | | Moody International Certification Ltd. |
| ISO 9002:1994 | | June 30, 2000 | | 403689 | | Lloyds Register Quality Assurance |