Quality Policy
Beginning with SICL Quality Policy that we should aim for the company to be truly patronized by the customer who will say "Since the quality is reliable we will only buy from Shinsei" a quality management system based on ISO 9001:2015 standard shall be esta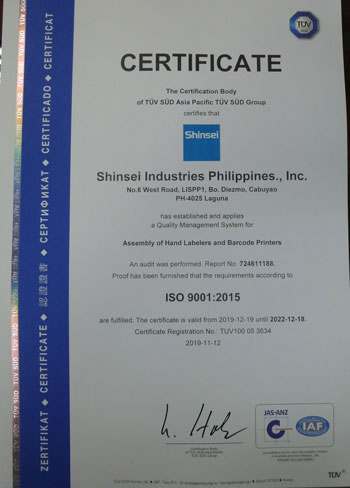 blished, implemented and reviewed for continuing effectiveness and suitability.
To sustain this commitment, we will
1) Carry out "The Customer First Policy" in the quality system.
2) Strive to provide quality products at low cost and ontime delivery that meet customer satisfaction.
3) Realize and promote as company activity the importance of integrating quality within the process and consummate one's work while inspecting previous processes recognizing the troubles in later processes.
4) Involve not only the Production Department, but all departments such as Puchasing, General Affairs etc. in the creation of quality.
5) Identify training needs and implement necessary training to enhance the competence of every employee.
6) Learn and implement ISO 9001 as a powerful teaching material for continually improving one's workplace.
7) Comply with all statutory and regulatory requirements.
Quality Management System Certification History
| | | | | | | |
| --- | --- | --- | --- | --- | --- | --- |
| ISO Standard | | Date Issued | | Certificate Number | | Certification Body (CB) |
| ISO 9001:2015 | | Dec. 19, 2019 | | TUV100 05 3634 | | TUV-SUD Asia Pacific |
| ISO 9001:2015 | | Dec. 13, 2016 | | TUV100 05 3634 | | TUV-SUD Asia Pacific |
| ISO 9001:2008 | | Sept. 25, 2013 | | AJA13.0763 | | AJA Registrars Philippines |
| ISO 9001:2008 | | July 2, 2010 | | Q101258 | | Moody International Certification Ltd. |
| ISO 9001:2000 | | Feb. 27, 2007 | | 101258 | | Moody International Certification Ltd. |
| ISO 9001:2000 | | Apr. 30, 2005 | | 153258 | | Moody International Certification Ltd. |
| ISO 9001:2000 | | Dec. 19, 2003 | | 6378 | | Moody International Certification Ltd. |
| ISO 9002:1994 | | June 30, 2000 | | 403689 | | Lloyds Register Quality Assurance |