Environmental Policy
We at Shinsei Industries Philippines, Inc. are commited to continously reduce the harmful elements in the environment for the development of an environmental-friendly economic society and for the sake of the children and their parents all over the world who are responsible for the future.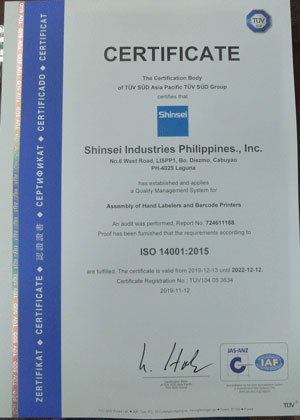 To sustain this commitment, we will
1) Establish, implement and maintain an Environmental Management System (EMS) based on ISO 14001:2015. To conserve water and energy, and prevent pollution to protect the environment.
2) Continually improve our environmental management system.
3) Comply with all the applicable environmental legislation.
4) Set, develop and periodically review our environmental objectives and targets.
5) We shall ensure that this environmental policy will be fully understood, implemented and maintained. Promote to our suppliers their cooperation for improvement of the environment.
6) Make this environmental policy available to public upon request.
7) Participate actively in community based activities that involve environmental protection.
Environmental Management System Certification History
| | | | | | | |
| --- | --- | --- | --- | --- | --- | --- |
| ISO Standard | | Date Issued | | Certificate Number | | Certification Body (CB) |
| ISO 14001:2015 | | Dec. 13, 2016 | | TUV104 05 3634 | | TUV SUD Asia Pacific |
| ISO 14001:2004 | | Sept. 15, 2012 | | E101258 | | Moody International Certification Ltd. |
| ISO 14001:2004 | | Sept. 15, 2009 | | 17120903001 | | Moody International Certification Ltd. |